Amalfi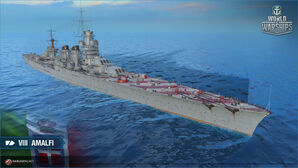 Tech Tree Position
203 mm/55 model 1934
3 х 3 

pcs.
Rate of Fire
3.75 

shots/min.
Reload Time
16 

sec.
Rotation Speed
7 

deg./sec.
180 Degree Turn Time
25.71 

sec.
Firing Range
14.68 

km.
Maximum Dispersion
134 

m.
Chance of Fire on Target Caused by HE Shell
0 

%
AP Shell
203 mm proiettili AP 1924 mod.2 
Maximum AP Shell Damage
4,800 
Initial AP Shell Velocity
910 

m./s.
AP Shell Weight
125.3 

kg.
Maximum SAP Shell Damage
5,200 
Initial SAP Shell Velocity
950 

m./s.
90 mm/50 OTO 1939
12 х 1 

pcs.
Firing Range
6.6 

km.
Rate of Fire
15 

shots/min.
Reload Time
4 

sec.
HE Shell
90 mm proiettili HE 
Maximum HE Shell Damage
1,300 
Initial HE Shell Velocity
860 

m./s.
Chance of Fire on Target Caused by HE Shell
5 

%
533 mm tubo lanciasiluri
2 х 4 

pcs.
Rate of Fire
0.63 

shots/min.
Reload Time
95 

sec.
Rotation Speed
25 

deg./sec.
180 Degree Turn Time
7.2 

sec.
Torpedo
533 mm Si 270 M 
Maximum Damage
12,667 
Torpedo Speed
51 

knot
Torpedo Range
12 

km.
90 mm/50 OTO 1939
12 х 1 

pcs.
. . . Average Damage per Second
114 
. . . Firing Range
3.99 

km.
20 mm/65 Breda Model 1935 on a Model 1935 mount
12 х 2 

pcs.
. . . Average Damage per Second
40.8 
. . . Firing Range
2.01 

km.
37 mm/54 Model 1938 on a Model 1938 mount
6 х 2 

pcs.
. . . Average Damage per Second
69.6 
. . . Firing Range
3.51 

km.
Maximum Speed
37 

knot
Turning Circle Radius
680 

m.
Rudder Shift Time
15.3 

sec.
Surface Detectability Range
14.44 

km.
Air Detectability Range
8.67 

km.
Battle Levels
Amalfi — Italian Tier VIII cruiser.
The project of a fast and well-protected heavy cruiser with nine 203 mm guns, designed by the Ansaldo company shortly before Italy entered World War II.
Modules
Compatible Upgrades
 Slot 1 
 Slot 2 
 Slot 3 
 Slot 4 
 Slot 5 
Player Opinion
Performance
Amalfi represents the largest shift in game play for the Italian Cruiser line. While the earlier ships in the line are certainly representative of the higher-tier game play for the line, it's only with Amalfi that a captain will be able to say with certainty that they enjoy the uniqueness of the line or not.
While the previous Zara encapsulates the design ideas of the interwar and treaty period, Amalfi is more in-line with contemporary designs of the late 1930s, with various quality-of-life improvements, such as triple-barrel turrets in an A-B-X format, that captains moving up from Zara will be certain to appreciate. Other improvements include an extended belt of 50 mm that can restrict the ability of enemy battleships to citadel Amalfi through the bow at close range, and a vastly improved top speed. While gaining an extra gun and a more useful turret layout, Amalfi does end up with a slightly slower reload than her predecessor.
Overall game play is similar to that of Zara, but captains should make note of a few important changes. Firstly, Amalfi's increased top speed and improved armor can allow captains to play in a more aggressive fashion. Reaching strategic positions and being able to retreat from a fallen flank are two aspects of her game play that captains should be able to appreciate, and are continued through to the remaining two ships in the line. Secondly, the change in match-making spread to include Tier X vessels can be both good and bad for Amalfi captains. The increase in number of "all-or-nothing" armor schemes among higher tier ships is extremely helpful when using the SAP shell type, but the inclusion of Tier X vessels introduce the potential of encountering vessels that have an almost guaranteed immunity to damage from your ship (such as Kremlin and Großer Kurfürst). Greater emphasis needs to be placed on the choice of shell type to properly deal damage to targets.
Target selection in higher tier games for Amalfi and her successors requires a thorough understanding of game mechanics. The impact of an Italian cruiser is greatest at the start of a battle, and diminishes throughout the course of a battle due to the Damage Saturation mechanic. In later stages of a match they become highly opportunistic; a saturated target will be taking significantly reduced damage, so captains must be able to recognize the signs of saturation and adjust their aim to unsaturated sections, or a different target entirely. Captains should take the opportunity in the early game to do as many large (8k+) damage salvos to as many targets as possible before saturation becomes an issue. Captains should especially take any and all chances at dealing damage to enemy destroyers; however, due to the lack of radar and hydro-acoustic consumables, actively hunting destroyers can be quite risky. A well-played Italian cruiser can make a massive difference on the early game development of a match by removing large chunks of health from enemy destroyers, if not outright sinking them.
Amalfi, as well as the following two vessels, should be played in a flexible role. The high top speeds and unique ability to disengage from a fight really comes to light with Amalfi. Captains can adopt "hit-and-run" style tactics to quickly remove moderately low-HP targets from the field where needed, and then disengage with minimal loss of health to themselves. The low-speed, high range torpedoes should be used when exiting a fight to dissuade pursuit, and not necessarily as an offensive method of damage dealing. Captains should also be aware of the large detection when firing in smoke penalty for high-tier Italian cruisers; captains should consider holding their fire when retreating to maximize the usefulness of their full-speed smoke generators.
Overall,
Amalfi
represents a fairly large departure from the low- and mid-tier Italian cruisers. Tactics learned through playing
Amalfi
will be applied to the following
Brindisi
and
Venezia
, so captains can get a feel for if they will enjoy the remainder of the line or not with her. Captains should continue to keep in mind that the Italian cruisers, especially at high-tier, play quite a bit differently than their contemporaries in other nations' tech trees, and should not be played as such. Doing so will only result in frustration at the limitations of SAP and lack of HE.
Amalfi
and her successors can absolutely make an impact on the outcome of a battle, and when well-played can be a far more rewarding experience than the "HE spam" of other cruisers.
Pros:
Great and accurate guns with high potential damage.
Fast top speeds rivaling destroyers of the same tier.
Great torpedo range, only shortcomings being their speed.
Fantastic torpedo angles with very low detection.
Exhaust Smoke Generator () leaves her capable of instantly disappearing. Great for retreating.
Capable of running Catapult Fighter () to improve AA, or Spotting Aircraft () to increase range.
Optimal Configuration
Upgrades
The recommended upgrades for Amalfi are as follows:
Commander Skills
Superintendent is highly recommended for the Amalfi as without it, she does not get a lot of uses on her smoke.
  Recommended Commander Skills  
Cost
(points)

Attack

Defense



1

★

 

 

★★★

★★

 



2

 

 

 

★★

★★

 



3

★★

 

★★★

 

★★★

★★



4

★

 

 

 

★★★

 

Key: ★★★ - Extremely Useful      ★★ - Frequently Useful      ★ - Occasionally Useful     No stars - Not Useful
Consumables
Amalfi can equip the following consumables:
Camouflage
Type 1, 2, or 5 camouflage can be equipped for credits; Types 1 or 5 are recommended at a minimum to reduce detectability range.
Players who wish to spend doubloons can equip Amalfi with Type 18 camouflage that lowers her detection radius, reduces the accuracy of incoming shells, reduces her repair costs, and increases the amount of experience she earns.
Signals
The Amalfi does not gain many offensive benefits from signals like many other ships. Sierra Mike (

) will increase her already fast speeds to 38.9 knots.
Recommended Signal Flags
Combat

 

 

 

★★

 

 

★★★

★★★

 

 

★★

★★★

 

 

Economic

 

 

 

 

 

Special

 

 

 

 

 

 

 

 

Key: ★★★ - Extremely Useful       ★★ - Frequently Useful       ★ - Occasionally Useful      No stars - Not Useful
Note: Use of the Juliet Charlie signal makes detonation impossible.
Gallery
References