Gelderland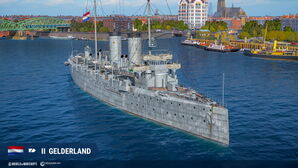 Tech Tree Position
120 mm/40 Krupp №3 on a shielded mount
8 х 1 

pcs.
Rate of Fire
7.5 

shots/min.
Reload Time
8 

sec.
Rotation Speed
10 

deg./sec.
180 Degree Turn Time
18 

sec.
Firing Range
11.34 

km.
Maximum Dispersion
119 

m.
HE Shell
120 mm HE Brisantgranaat 
Maximum HE Shell Damage
1,700 
Chance of Fire on Target Caused by HE Shell
7 

%
Initial HE Shell Velocity
820 

m./s.
HE Shell Weight
20.5 

kg.
AP Shell
120 mm AP Pantsergranaat 
Maximum AP Shell Damage
2,000 
Initial AP Shell Velocity
820 

m./s.
AP Shell Weight
21 

kg.
12.7 mm Browning M1921
8 х 1 

pcs.
. . . Average Damage per Second
36.8 
. . . Firing Range
1.2 

km.
7.92 mm Schwarzlose machine gun
3 х 1 

pcs.
. . . Average Damage per Second
5.7 
. . . Firing Range
0.99 

km.
Maximum Speed
20 

knot
Turning Circle Radius
330 

m.
Rudder Shift Time
4.8 

sec.
Surface Detectability Range
8.28 

km.
Air Detectability Range
3.29 

km.
Battle Levels
Gelderland — Dutch Tier II cruiser.
A Holland-class protected cruiser—a typical cruiser from the turn of the 20th century. After having received a number of armament modifications, her main battery comprised eight 120 mm guns mounted on the deck.
Modules
Compatible Upgrades
Player Opinion
Performance
Warning. The data presented in the AA Defense sidebar section may be incorrect.
For a graphic summary of ships Tiers VIII thru XI see LittleWhiteMouse's "Actual AA DPS".

Tier I Van Kinsbergen is effective at tier. Gelderland is less so. In particular, her AP shells seem to over-penetrate everything they hit at Tier II yet can't penetrate the thick armor of many cruisers at Tier III. Given the sloped roofs of most citadels at these tiers, her AP might be best at range when the high trajectory can make an effective angle of incidence.
The most effective tactic seems to be firing HE into the upper works or bows and sterns of the enemy.
Since she struggles to do significant damage, a quick progression to
Java
is encouraged.
Pros:
Short turning radius.
Excellent concealment for a cruiser.
Cons:
Slow speed.
Few guns bear directly ahead.
Wonky dispersion and weak shells.
Low rate of fire, resulting in low damage output.
High freebord makes her easier to hit and take citadel damage.
Research
Given the terrible dispersion of her guns, the SUO Mk 2 Mod 2 Gun Fire Control System upgrade seems rather pointless.
Optimal Configuration
Upgrades
Commander Skills
  Recommended Commander Skills  
Cost
(points)

Attack

Defense



1

 

 

 

 

★

★★



2

★★

 

 

 

★★

 



3

★★

 

★★

 

 

 



4

★★

 

★

 

★

 

Key: ★★★ - Extremely Useful      ★★ - Frequently Useful      ★ - Occasionally Useful     No stars - Not Useful
Consumables
Gelderland equips the following consumables:
Signals
Ramming an enemy in Co-op seems to be a common way of quickly accumulating damage and leaving the battle. With that strategy, only Sierra Mike, possibly Hotel Yankee (hoping for a second ram) and an econ signal or two make sense. Otherwise, Juliet Charlie is probably the best pick.
Note: Use of the Juliet Charlie signal makes detonation impossible.
Gallery
References
See here for links to Update notes.

Available for testing by supertesters in the game starting from Update 0.10.4.
Introduced into the game as a researchable ship in Update 0.10.8.
Update 0.10.10:

Minor fixes to geometry and textures of the ship.