Gouden Leeuw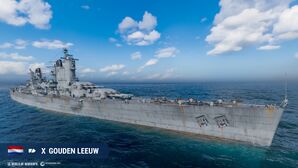 Tech Tree Position
283 mm/54.5 in a turret
3 х 3 

pcs.
Rate of Fire
4 

shots/min.
Reload Time
15 

sec.
Rotation Speed
7.2 

deg./sec.
180 Degree Turn Time
25 

sec.
Firing Range
16.5 

km.
Maximum Dispersion
186 

m.
HE Shell
283 mm HE Brisantgranaat 
Maximum HE Shell Damage
3,900 
Chance of Fire on Target Caused by HE Shell
20 

%
Initial HE Shell Velocity
890 

m./s.
HE Shell Weight
315 

kg.
AP Shell
283 mm AP Pantsergranaat 
Maximum AP Shell Damage
7,600 
Initial AP Shell Velocity
890 

m./s.
AP Shell Weight
330 

kg.
120 mm/50 Model 1942 in a turret
6 х 2 

pcs.
Firing Range
7.3 

km.
Rate of Fire
20 

shots/min.
Reload Time
3 

sec.
HE Shell
120 mm HE Brisantgranaat 
Maximum HE Shell Damage
1,700 
Initial HE Shell Velocity
850 

m./s.
Chance of Fire on Target Caused by HE Shell
7 

%
120 mm/50 Model 1942 in a turret
6 х 2 

pcs.
. . . Average Damage per Second
145.8 
. . . Firing Range
5.19 

km.
40 mm/70 SAK-40/L70-350

on a SAK-40/L70-350 mount
12 х 1 

pcs.
. . . Average Damage per Second
327.6 
. . . Firing Range
3.51 

km.
Maximum Speed
33.5 

knot
Turning Circle Radius
790 

m.
Rudder Shift Time
12.7 

sec.
Surface Detectability Range
12.75 

km.
Air Detectability Range
9.27 

km.
Battle Levels
Gouden Leeuw — Dutch Tier X cruiser.
A battlecruiser project (Project 1047) developed in the Netherlands in the late 1930s to counter the Japanese fleet in the Pacific. Her main armament comprised nine German-built 283 mm guns.
Modules
Compatible Upgrades
 Slot 1 
 Slot 2 
 Slot 3 
 Slot 4 
 Slot 5 
 Slot 6 
Player Opinion
Performance
Warning. The data presented in the AA Defense sidebar section may be incorrect.
For a graphic summary of ships Tiers VIII thru XI see LittleWhiteMouse's "Actual AA DPS".

Tier X Dutch Cruiser Gouden Leeuw offers a play style like no other Tier X cruiser. She possesses battlecruiser-like armor and main battery guns while having light cruiser concealment. Like all other Dutch cruisers she carries the special airstrike armament.
Attributes
Gouden Leeuw has an above average armor scheme, featuring a 25mm upper bow with a 40mm "icebreaker" lower bow. This makes it nearly impossible to citadel her through her bow. Her stern plating is fully 25mm easily overmatchable by enemy battleships. However she has excellent 40mm side plating, more than enough to cause all enemy battleship shells to ricochet off when angled. While kiting captains should look to either dodge enemy battleship shells or to ricochet them with this 40mm plate (instead of the 25 mm stern). Despite having an above-waterline citadel her 25mm turtleback makes her citadel relatively resistant to shots from enemy cruisers. However, this does not protect her citadel against battleship AP shells. Finally, captains should beware that Gouden Leeuw burns for 60 seconds rather than 30 seconds, making her vulnerable to fires.
Gouden Leeuw's guns are nearly identical to that of Tier VII Scharnhorst, sharing her gun caliber and shell velocity while having minor improvements in penetration, salvo damage, and dispersion. Despite an improved 15 second reload, her DPM is still lackluster, ranking among the worst out of all Tier X cruisers. To make up for this, her guns have high shell velocity and great alpha compared to her contemporaries. The AP shells in particular pack a surprisingly hard punch when used against enemy cruisers and battleships. They have enough penetration to citadel enemy cruisers at all ranges and even certain enemy battleships at mid to close range.
Gouden Leeuw's airstrikes reload every 100 seconds, with a maximum of two charges. They are best used against targets which are large and immobile, whose movements are easier to predict (such as battleships or large cruisers). In addition, due to the pattern of how the bombs fall, more bombs will hit on targets that are bow or stern in to an airstrike rather than broadside to it. These high damaging bombs can penetrate up to 37mm of armor. Used in tandem with main battery HE, Gouden Leeuw can be a great fire starter, using the bombs to force a use of a damage control party and following up with fires due to main battery H.E shells.
With a 12.7 second rudder shift and a 790m turning circle, Gouden Leeuw's maneuverability is average compared to other Tier X cruisers. The same cannot be said for her AA – she has one of the best anti-aircraft suites at Tier X, with outstanding mid-range continuous damage. As such, her AA menaces enemy aircraft, often destroying entire squadrons before their attack run starts.
For a large cruiser, Gouden Leeuw is surprisingly stealthy. She can use this stealth to reach aggressive positions wherever necessary which she can then hold with her excellent armor.
Gouden Leeuw has access to standard Damage Control Party, Hydroacoustic Search, Defensive AA fire, and a special low-downtime repair party with a cooldown of just 40 seconds. This short downtime mitigates her 60 second burn time, allowing her to hold aggressive positions.
Game Play
Gouden Leeuw
is unique at tier X in that it combines supercruiser style guns and armor with light cruiser levels of concealment and maneuverability. This gives her a great deal of flexibility, allowing her to play both as an opportunistic ambush cruiser who can reach aggressive but effective positions undetected, and as a kiting cruiser, using her H.E shells in conjunction with her airstrikes to terrorize enemy ships who push in to her. As such,
Gouden Leeuw
excels on the defensive, either holding key choke points or slowing down an enemy push while kiting away as the situation deems necessary.
Pros:
Heavily armored midsection and icebreaker bow
Largest gun caliber of all techtree cruisers at 283mm
Powerful AP shells with good damage, penetration, and shell velocity
Very powerful AA defenses, aided by the Defensive AA Fire  consumable
Improved Repair Party  consumable with a fast cooldown
Great speed at 33.5 knots unmodified
Great concealment, as low as 10.3km with all relevant upgrades
Cons:
Short main battery range
Subpar accuracy at all ranges
While fire chance is decent, HE damage output is very low
Increased fire and flooding duration (same as a battleship)
Airstrikes have a long cooldown
Slow rudder shift for a cruiser
Research
As a Tier X ship, Gouden Leeuw has no module upgrades to research.
Optimal Configuration
Upgrades
The recommended upgrades for Gouden Leeuw are:
Commander Skills
  Recommended Commander Skills  
Cost
(points)

Attack

Defense



1

 

 

 

★★

★

 



2

 

 

 

 

★★★

★★



3

 

 

★★★

★★

★★★

★★



4

 

 

 

 

★★★

★★

Key: ★★★ - Extremely Useful      ★★ - Frequently Useful      ★ - Occasionally Useful     No stars - Not Useful
Consumables
Gouden Leeuw equips the following consumables:
Signals
Note: Use of the Juliet Charlie signal makes detonation impossible.
Gallery
References
See here for links to Update notes.

Available for testing by supertesters in the game starting from Update 0.10.4.
Introduced into the game as a researchable ship in Update 0.10.8.
Update 0.10.8:

Fixed issues with the ship model and textures.

Update 0.10.9:

Fixed an error that caused the Airstrike bomb penetration value in Port to be incorrectly displayed as 38 mm, changed to 37 mm to match in-game value.