Duca d'Aosta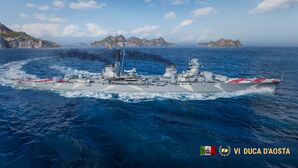 Tech Tree Position
100 mm /47 OTO 1928
3 х 2 

pcs.
Firing Range
4.96 

km.
Rate of Fire
10 

shots/min.
Reload Time
6 

sec.
HE Shell
100 mm proiettili HE 
Maximum HE Shell Damage
1,500 
Initial HE Shell Velocity
850 

m./s.
Chance of Fire on Target Caused by HE Shel
6 

%
533 mm tubo lanciasiluri
2 х 3 

pcs.
Rate of Fire
0.85 

shots/min.
Reload Time
71 

sec.
Rotation Speed
25 

deg./sec.
180 Degree Turn Time
7.2 

sec.
Torpedo
533 mm Si 270 
Maximum Damage
13,367 
Torpedo Speed
51 

knot
Torpedo Range
12 

km.
100 mm /47 OTO 1928
3 х 2 

pcs.
. . . Average Damage per Second
19.8 
. . . Firing Range
3.99 

km.
13.2 mm/76 Breda 1931
4 х 2 

pcs.
. . . Average Damage per Second
16.4 
. . . Firing Range
1.2 

km.
37 mm/54 Breda 1932
4 х 2 

pcs.
. . . Average Damage per Second
46.4 
. . . Firing Range
3.51 

km.
Maximum Speed
36.5 

knot
Turning Circle Radius
710 

m.
Rudder Shift Time
6.7 

sec.
Surface Detectability Range
12.06 

km.
Air Detectability Range
5.88 

km.
Battle Levels
Duca d'Aosta — Italian premium Tier VI cruiser.
A light cruiser, Duca d'Aosta was a good ship for her time. Among her competitive advantages were high speed and generally well-balanced parameters.

Duca d'Aosta first went on sale on 20 April 2017.
Modules
Compatible Upgrades
 Slot 1 
 Slot 2 
 Slot 3 
 Slot 4 
Player Opinion
Performance
Tier VI premium cruiser Emanuele Filiberto Duca d'Aosta — named after Prince Emanuele Filiberto of Savoy, Second Duke of Aosta — introduces the Regia Marina to World of Warships.
Duca d'Aosta is built around eight 6-inch (152mm) guns in four turrets in an AB-XY configuration and complimented by one triple-tube torpedo launcher on both her port and starboard sides. Her guns feature high velocity and flat arcs — making leading enemy ships at range easy — most Duca d'Aosta captains will find themselves firing almost exclusively high explosive rounds unless facing broadside cruisers on short to medium ranges. Her torpedoes have a 12.0 km range, allowing for some interesting uses that most other cruisers (with their shorter-ranged fish) are not capable of.
Cruiser veterans will also be delighted to note that Duca d'Aosta does not have to choose between Defensive AA Fire (

) and Hydroacoustic Search (

), unlike most other cruisers. Despite her access to Defensive AA Fire, her AA suite is mediocre at best, weaker than that of nearly every other Tier VI cruiser. Unless commander skill points and modules are invested into buffing the diameter of her AA bubble, the consumable is best reserved for self-defense only.
As expected for a mid-tier light cruiser,
Duca d'Aosta
has a very vulnerable citadel, meaning that captains must play cautiously to avoid being punished for overextending or positional mistakes. She also has a large turning radius and poor acceleration, making her vulnerable if caught in a bad situation. Her rudder response and top speed are outstanding, however; once she is up to speed she handles almost like a destroyer despite her overall length.
Pros:
Duca d'Aosta has a top speed of 36.5 knots making her the fastest cruiser at Tier VI.
The ship can mount the Hydroacoustic Search (), Defensive AA Fire (), and Spotting Aircraft () consumables simultaneously.
The torpedoes have an impressive 12.0 km range and reload speed of only 71 seconds.
The main battery guns fire at a very high velocity.
Decent AA with the right upgrades.
Torpedoes do heavy damage.
Cons:
Similar to other light cruisers, Duca d'Aosta's armor will not withstand many hits from large caliber shells.
The traverse speed of the main turrets is somewhat slow and will sometimes lose their aim during hard turns.
The fire chance on the HE shells is low at 7%.
Despite their range, the torpedoes are slow at only 51 knots.
Her AP is not as effective as her contemporaries due to low armor penetration values on the shells themselves.
Research
As a premium ship, Duca d'Aosta has no upgrades to research.
Optimal Configuration
Upgrades
The recommended upgrades for Duca d'Aosta are as follows:
Upgrade Slot 3 provides Duca d'Aosta with the ability to specialize in certain roles. With access to the Defensive AA Fire (

) consumable, AA Guns Modification 1 (

) may be a good choice for players wishing to specialize in anti-aircraft duties. Duca d'Aosta benefits most from Aiming Systems Modification 1, which reduces the dispersion of main battery shells, increases torpedo traverse speed, and slightly improves the range and dispersion of the secondary battery.
Commander Skills
  Recommended Commander Skills  
Cost
(points)

Attack

Defense



1

★★

 

 

 

 

★



2

 

 

★★

 

★★

 



3

★★

 

★★

 

★★

★★



4

 

 

 

 

★★

 

Key: ★★★ - Extremely Useful      ★★ - Frequently Useful      ★ - Occasionally Useful     No stars - Not Useful
Consumables
Duca d'Aosta equips the following consumables:
Duca d'Aosta's suite of consumables is what sets her apart from many of her contemporaries, as she has access to all four available consumables at once - she does not need to pick between Defensive AA Fire (

) or Spotting Aircraft (

).
Camouflage
As a premium ship, Duca d'Aosta comes with Type 10 camouflage that lowers her detection radius, reduces the accuracy of incoming shells, and increases the amount of experience she earns.
Signals
As with all cruisers, Duca d'Aosta has 8 slots for signal flags. Victor Lima (

) and India X-Ray (

) are highly recommended to boost fire chance, increasing the damage potential of the ship. Zulu Hotel (

) is also highly recommended as it increases commander experience gains, which is already high due to the Duca d'Aosta being a premium ship, and the signal flag being relatively easy to obtain. Experience gains can be multiplied even further with the Equal Speed Charlie London (

), Papa Papa (

), and Dragon Flag (

) signal flags, which boost regular experience gains, Free experience gains, and commander experience gains, respectively. The Zulu (

) signal flag may also be mounted to increase the credit income of the ship, which premium ships are good for. Sierra Mike (

) is recommended in order to make the already fast Duca d'Aosta even faster. Finally, you may choose to add the Juliet Charlie (

) signal flag in order to prevent detonations to the ship.
Recommended Signal Flags
Combat

 

 

★★★

 

★★★

 

★★

★★

 

 

 

★

 

 

Economic

★★

★

★★

★★★

★★

Special

★

★★

★★

★★

 

 

 

 

Key: ★★★ - Extremely Useful       ★★ - Frequently Useful       ★ - Occasionally Useful      No stars - Not Useful
Note: Use of the Juliet Charlie signal makes detonation impossible.
Gallery
References