Van Kinsbergen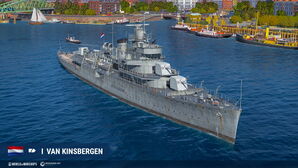 Tech Tree Position
120 mm/50 Wilton-Fijenoord Mk.6 on a shielded mount
4 х 1 

pcs.
Rate of Fire
8.82 

shots/min.
Reload Time
6.8 

sec.
Rotation Speed
10 

deg./sec.
180 Degree Turn Time
18 

sec.
Firing Range
11.38 

km.
Maximum Dispersion
100 

m.
HE Shell
120 mm HE Brisantgranaat 
Maximum HE Shell Damage
875 
Chance of Fire on Target Caused by HE Shell
8 

%
Initial HE Shell Velocity
900 

m./s.
HE Shell Weight
24 

kg.
40 mm/56 Bofors on a №3 mount
2 х 2 

pcs.
. . . Average Damage per Second
31.8 
. . . Firing Range
3.51 

km.
Maximum Speed
25.5 

knot
Turning Circle Radius
350 

m.
Rudder Shift Time
3.5 

sec.
Surface Detectability Range
8.56 

km.
Air Detectability Range
5.03 

km.
Battle Levels
Van Kinsbergen — Dutch Tier I cruiser.
Gunboat Van Kinsbergen was intended for training to operate state-of-the-art fire control systems. The ship was commissioned shortly before the beginning of World War II. During the war, she served in the Caribbean Sea and took part in escorting convoys, intercepting enemy transports, and hunting German submarines. After the war ended, Van Kinsbergen was engaged in two raids to the East Indies and Australia and was then used as floating barracks.
Modules
Compatible Upgrades
Player Opinion
Performance
Warning. The data presented in the AA Defense sidebar section may be incorrect.
For a graphic summary of ships Tiers VIII thru XI see LittleWhiteMouse's "Actual AA DPS".
Van Kinsbergen is the fastest of all Tier 1 ships, even outrunning the fast patrol cutter Orlan. Her maneuverability is on par with or better than the other ships she will face at her tier. Use that speed to your advantage. Van Kinsbergen is a good ship to train a new player how to kite effectively. put some distance between you & pursuing vessels, then start zigzagging. Zig to bring your foward guns to bear when they reload, zag to evade return fire.
Using the ship as a brawler can work, but her reload & traverse leave something to be desired in this respect. Resort to kiting in Tier 2 & 3 games.
Pros:
Very high firing range
Very high speed
Cons:
Very high detectability range
Very long gun reload time
Very low damage per minute
Optimal Configuration
Upgrades
The recommended upgrades are:
Commander Skills
For survivability build, take Last Stand, Demolition Expert, and Survivability Expert.
For more aggressive play, take Grease the Gears, Demolition Expert, and Adrenaline Rush(a must-have). Several different skills may work for Level 4, but use of Inertia Fuse may help you get citadels & magazine detonations.
  Recommended Commander Skills  
Cost
(points)

Attack

Defense



1

★★★

 

 

 

★

★★★



2

★★★

 

 

 

★

 



3

★★

 

★★★

 

 

★★



4

★★

★★★

★

★★

★

 

Key: ★★★ - Extremely Useful      ★★ - Frequently Useful      ★ - Occasionally Useful     No stars - Not Useful
Consumables
Van Kinsbergen equips the following consumables:
Signals
Note: Use of the Juliet Charlie signal makes detonation impossible.
Gallery
References
See here for links to Update notes.

Available for testing by supertesters in the game starting from Update 0.10.4.
Introduced into the game as a researchable ship in Update 0.10.8.