Genova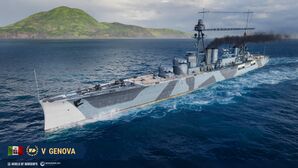 Tech Tree Position
203 mm/50 Model 1924 on a Model 1924 mount
4 х 2 

pcs.
Rate of Fire
3 

shots/min.
Reload Time
20 

sec.
Rotation Speed
7 

deg./sec.
180 Degree Turn Time
25.71 

sec.
Firing Range
14.3 

km.
Maximum Dispersion
131 

m.
Chance of Fire on Target Caused by HE Shell
0 

%
AP Shell
203 mm proiettili AP 1924 mod.1 
Maximum AP Shell Damage
4,700 
Initial AP Shell Velocity
840 

m./s.
AP Shell Weight
125.3 

kg.
Maximum SAP Shell Damage
4,850 
Initial SAP Shell Velocity
840 

m./s.
102 mm/35 Vickers-Terni Model 1915 on a single mount
12 х 1 

pcs.
Firing Range
4.3 

km.
Rate of Fire
15 

shots/min.
Reload Time
4 

sec.
HE Shell
102 mm proiettili HE 1933 
Maximum HE Shell Damage
1,450 
Initial HE Shell Velocity
811 

m./s.
Chance of Fire on Target Caused by HE Shell
6 

%
IDS_PIGT029_533_MM_2_TUBES_L
2 х 2 / 2 х 2 

pcs.
Rate of Fire
1.28 

shots/min.
Reload Time
47 

sec.
Rotation Speed
25 

deg./sec.
180 Degree Turn Time
7.2 

sec.
Torpedo
533 mm Si 270 G 
Maximum Damage
9,067 
Torpedo Speed
51 

knot
Torpedo Range
8.01 

km.
102 mm/35 Vickers-Terni Model 1915 on a single mount
12 х 1 

pcs.
. . . Average Damage per Second
33.6 
. . . Firing Range
3.51 

km.
76 mm/40 Ansaldo Model 1916 on an RM1916 mount
4 х 1 

pcs.
. . . Average Damage per Second
8.4 
. . . Firing Range
3 

km.
Maximum Speed
34.5 

knot
Turning Circle Radius
660 

m.
Rudder Shift Time
8.6 

sec.
Surface Detectability Range
11.47 

km.
Air Detectability Range
8.28 

km.
Battle Levels
Genova — Italian special premium Tier V cruiser.
In 1923, Italy began working on the design of a "Washington cruiser" that had a displacement of up to 10,000 tons and was equipped with 203 mm guns. It resulted in a project for a cruiser with eight 203 mm guns in four turrets, an echelon propulsion plant, and a flush-deck hull. According to that project, the ship had a catapult and seaplane hangar. The construction plan was not implemented, and further development led to the appearance of heavy cruisers of the Trento class.
Genova could be obtained through the Italian Cruisers event that ran from October 7th until November 13th, 2019.
Modules
Compatible Upgrades
Player Opinion
Performance
Warning. The data presented in the AA Defense sidebar section may be incorrect.
For a graphic summary of ships Tiers VIII thru XI see LittleWhiteMouse's "Actual AA DPS".
The third Tier 5 cruiser in the game with 203mm main guns after Furutaka and Exeter, Genova's performance is centered around her main battery. Like other Italian cruisers, her HE shells have been replaced with SAP shells. These perform similarly to HE shells with good penetration, but cannot start fires. To take advantage of this ship's firepower, it is key to learn which ships in her matchmaking spread can be penetrated reliably with which ammunition. Heavily armored BBs which will require you to fire AP into the superstructure when angled can often be devastated by SAP into the broadside. Meanwhile, the powerful AP may citadel some angled cruisers while nearly always over-penetrating others. Becoming familiar with these situations is key to your success.
The guns have significant but easily mitigable weaknesses. It is key to remain near your somewhat short maximum firing range, which will increase your survivability tenfold while taking advantage of your guns' strong characteristics. The turrets have very poor rotation speed, further weakening Genova in knife fights and when caught unaware. Finally, in exchange for their atypical caliber, the reload is a miserable 20 seconds. Fortunately, above-average concealment allows the ship to take advantage of disappearing between powerful strikes. Good planning and clear foresight will keep these traits from being your frustrating end.
Genova may be comfortable against any opponent, but she truly excels against other cruisers. Her armor, health, and shell performance make her a frightening foe for her generally smaller peers.
In most other cases, the ship is quite average. Her armor is above-average, but it remains forgettable cruiser armor to large guns. Speed is slightly above average, and she has a somewhat sluggish rudder. AA defenses are functional but they're not likely to scare away any strike craft on their own.
Genova lacks a Hydroacoustic Search. This is probably her greatest weakness as compared to her cruiser peers at Tier V. Combined with the ship's length and rudder, it makes remaining aware of enemy torpedo vessels paramount, while precluding aggressive DD hunting.
All-in-all,
Genova
is a straightforward ranged support ship that will reward attentive play.
Pros:
Guns have good damage output and ballistic performance
Long-range torpedoes for a Tier V cruiser
Average to high speed for class and tier, matching Furutaka but falling behind Emile Bertin's blistering ~40 knots
Large health pool
Passable armor, good for a T5 cruiser
Good concealment
Cons:
Exceptionally terrible reload and turret rotation
Mediocre rudder shift
No Hydroacoustic Search
Research
As a premium ship, Genova has no upgrades to research.
Optimal Configuration
Upgrades
The recommended upgrades for Genova are as follows:
Commander Skills
  Recommended Commander Skills  
Cost
(points)

Attack

Defense



1

★★

 

 

 

 

 



2

 

★★

 

 

★★

 



3

★★

 

★★

 

★★

★★



4

 

 

 

 

★★

 

Key: ★★★ - Extremely Useful      ★★ - Frequently Useful      ★ - Occasionally Useful     No stars - Not Useful
Consumables
Genova can equip the following consumables:
Camouflage
As a premium ship, Genova comes with Default permanent camouflage and a set of permanent combat bonuses.
Signals
Note: Use of the Juliet Charlie signal makes detonation impossible.
Gallery
References
See here for links to Update notes.

Available for testing by supertesters in the game starting from Update 0.8.7.
Update 0.8.9:

Added for sale in the Premium Shop. Also became available to obtain from "Patria e Onore" random bundles in the "Italian Cruisers" section of the Armory.

Update 0.8.10:

The starting ricochet angle for a semi-armor-piercing shell was increased from 65 to 70 degrees.

Update 0.9.2:

The armor thickness was changed: the central section was reinforced from 13 to 16 mm.

Update 0.9.5:

Small changes to geometry and textures.

Update 0.10.0:

The firing range of the secondary battery was increased to 4.3 km.