Brindisi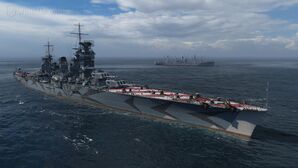 Tech Tree Position
203 mm/55 Model 1934 in a turret
4 х 3 

pcs.
Rate of Fire
3 

shots/min.
Reload Time
20 

sec.
Rotation Speed
7 

deg./sec.
180 Degree Turn Time
25.71 

sec.
Firing Range
15.57 

km.
Maximum Dispersion
140 

m.
Chance of Fire on Target Caused by HE Shell
0 

%
AP Shell
203 mm proiettili AP 1924 mod.2 
Maximum AP Shell Damage
4,800 
Initial AP Shell Velocity
910 

m./s.
AP Shell Weight
125.3 

kg.
Maximum SAP Shell Damage
5,200 
Initial SAP Shell Velocity
950 

m./s.
90 mm/50 Model 1939 in a turret
12 х 1 

pcs.
Firing Range
6.95 

km.
Rate of Fire
15 

shots/min.
Reload Time
4 

sec.
HE Shell
90 mm proiettili HE 
Maximum HE Shell Damage
1,300 
Initial HE Shell Velocity
860 

m./s.
Chance of Fire on Target Caused by HE Shell
5 

%
533 mm tubo lanciasiluri
2 х 4 

pcs.
Rate of Fire
0.63 

shots/min.
Reload Time
95 

sec.
Rotation Speed
25 

deg./sec.
180 Degree Turn Time
7.2 

sec.
Torpedo
533 mm Si 270 N 
Maximum Damage
13,900 
Torpedo Speed
56 

knot
Torpedo Range
13.5 

km.
90 mm/50 Model 1939 in a turret
12 х 1 

pcs.
. . . Average Damage per Second
114 
. . . Firing Range
3.99 

km.
37 mm/54 Model 1938 on a Model 1938 mount
14 х 2 

pcs.
. . . Average Damage per Second
162.4 
. . . Firing Range
3.51 

km.
20 mm/65 Breda Model 1935 on a Model 1935 mount
10 х 2 

pcs.
. . . Average Damage per Second
34 
. . . Firing Range
2.01 

km.
Maximum Speed
36.7 

knot
Turning Circle Radius
730 

m.
Rudder Shift Time
15.1 

sec.
Surface Detectability Range
15.54 

km.
Air Detectability Range
9.2 

km.
Battle Levels
Brindisi — Italian Tier IX cruiser.
A further development of the preceding project, with the main battery reinforced by adding the fourth main gun turret. The elevation angle of the 203 mm guns made it possible to fire up at hostile aircraft.
Modules
Compatible Upgrades
 Slot 1 
 Slot 2 
 Slot 3 
 Slot 4 
 Slot 5 
 Slot 6 
Player Opinion
Performance
Warning. The data presented in the AA Defense sidebar section may be incorrect.
For a graphic summary of ships Tiers VIII thru XI see LittleWhiteMouse's "Actual AA DPS".

Brindisi is a somewhat odd upgrade from the previous ship, Amalfi. The most obvious change is the addition of a fourth turret on her stern; however, this comes at the cost of an increased reload. Brindisi has 20 second reload vs. Amalfi's 16 second reload. Even with the upgrade, Main Battery Modification 3
, her reload is only reduced to 17.6 seconds. This trade-off between extra barrels and reload when moving up a tier isn't unique to this line; the move from Baltimore to Buffalo has a similar trade. Other improvements include extra hit points, a slightly faster rudder, and an extra kilometer of range.
Brindisi's play style is no different from that of Amalfi. Captains who played through the previous ship can transfer their knowledge without issue. One thing to consider, however, is that trying to keep all four guns on target may not always be the best choice, as the resulting amount of side shown can be potentially deadly.
Her game play is identical to other ships in the line; knowing where to aim to maximize the damage done by SAP, switching to AP for Russian and German battleships, focusing destroyers and angled cruisers, and re-positioning to maximize your effect on a battle.
Pros:
50 mm extended belt allows her to brawl enemy battleships with proper angling.
Tight turning radius for a ship of her size.
High top speed.
Increased number of guns over Amalfi.
Cons:
20 second reload on main guns.
Weak mid-section deck (25 mm) will be overmatched by most battleship guns she will face.
Relatively lack luster AA values.
Standard limitations of only having SAP and AP.
Research
Availability of researchable upgrades for Brindisi is as follows:
Hull: Upgrade to Hull (B) for a faster rudder shift time and improved AA. Research of this module unlocks progression to Venezia.
Gun Fire Control System: Upgrade to SDT 9 mod. 2 for an extra 10% range on the main battery.
Optimal Configuration
Upgrades
The recommended upgrades for Brindisi are as follows:
Commander Skills
  Recommended Commander Skills  
Cost
(points)

Attack

Defense



1

★

 

 

★★★

★★

 



2

 

 

 

★★

★★

 



3

★★

 

★★★

 

★★★

★★



4

★

 

 

 

★★★

 

Key: ★★★ - Extremely Useful      ★★ - Frequently Useful      ★ - Occasionally Useful     No stars - Not Useful
Consumables
Brindisi can equip the following consumables:
Camouflage
Type 1, 2, or 5 camouflage can be equipped for credits; Types 1 or 5 are recommended at a minimum to reduce detectibility range.
Players who wish to spend doubloons can equip
Brindisi
with
Type 19 camouflage
that lowers her detection radius, reduces the accuracy of incoming shells, reduces her repair costs, and increases the amount of experience she earns.
Gallery
References
See here for links to Update notes.

Available for testing by supertesters in the game starting from Update 0.8.7.
Introduced into the game as a researchable ship in Update 0.8.10.
Update 0.8.10:

The starting ricochet angle for a semi-armor-piercing shell was increased from 65 to 70 degrees.

Update 0.8.11:

The description of the ship in the Port was changed.

Update 0.9.2:

The armor thickness was changed: the central section was reinforced from 25 to 27 mm.

Update 0.9.4:

Minor fixes to textures and ship model.

Update 0.10.0:

The firing range of the secondary battery was increased to 6.95 km.

Update 0.11.2:

Minor fixes to geometry and textures of the ship.