AL Avrora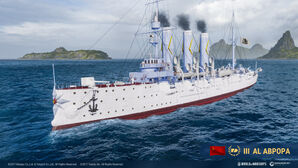 Tech Tree Position
152 mm/45 Model 1892 on a Canet mounting
14 х 1 

pcs.
Rate of Fire
7 

shots/min.
Reload Time
8.57 

sec.
Rotation Speed
5.5 

deg./sec.
180 Degree Turn Time
32.73 

sec.
Firing Range
11.24 

km.
Maximum Dispersion
99 

m.
HE Shell
152 mm HE 109 lb 
Maximum HE Shell Damage
2,100 
Chance of Fire on Target Caused by HE Shell
8 

%
Initial HE Shell Velocity
753 

m./s.
HE Shell Weight
49.76 

kg.
AP Shell
152 mm AP 91 lb 
Maximum AP Shell Damage
2,700 
Initial AP Shell Velocity
792.5 

m./s.
AP Shell Weight
41.4 

kg.
76.2 mm Model 1914/15 on an AA mounting
6 х 1 

pcs.
. . . Average Damage per Second
9 
. . . Firing Range
3 

km.
Maximum Speed
19 

knot
Turning Circle Radius
410 

m.
Rudder Shift Time
6.4 

sec.
Surface Detectability Range
10.3 

km.
Air Detectability Range
4.37 

km.
Battle Levels
AL Avrora — Soviet special premium Tier III cruiser.
Avrora is a light Pallada-class cruiser and one of the oldest ships of the Northern Parliament. Her name means "dawn." From the Azur Lane game. AL Avrora was first released for sale on 27 May 2022.
Modules
Compatible Upgrades
Player Opinion
Performance
Warning. The data presented in the AA Defense sidebar section may be incorrect.
For a graphic summary of ships Tiers VIII thru XI see LittleWhiteMouse's "Actual AA DPS".
AL Avrora is a clone of the Russian Tier III premium cruiser Aurora and thus comparable to other protected cruisers like III St. Louis and Bogatyr.
She carries fourteen 152mm guns in shielded single mounts, and can bring up to eight guns to bear on a target when fully broadside. While her 11.2km range is on the short side compared to her counterparts, her range is still usable with the shorter combat ranges of low tiers. Players should be aware that her shell arcs are rather high. AL Avrora suffers from her extremely slow speed, barely able to outrun most of her Tier III battleship counterparts and slower than almost all cruisers.
Overall, AL Avrora is a workable ship for players looking for a low tier premium cruiser. However, her sluggish maneuverability and lackluster guns may be frustrating for some players.
Pros:
Large number of guns on each broadside.
Large HP pool for her tier.
Cons:
Slow speed and sluggish acceleration.
AP ammo rarely effective.
Practically absent anti-aircraft suite.
High shell arc and slow shell velocity.
No secondaries.
Poor armor protection.
Short main battery firing range of only 11.2 km.
Research
As a premium ship, AL Avrora has no module upgrades to research.
Optimal Configuration
Upgrades
The recommended upgrades are:
Commander Skills
Players looking to train a commander for a higher tier tech tree or premium ship should consult that ship's page for skill recommendations. For players looking for a dedicated commander, skills should focus on improving AL Avrora's survivability and main battery performance.
  Recommended Commander Skills  
Cost
(points)

Attack

Defense



1

★★★

 

★

★★★

★★★

 



2

★★★

 

★

 

★

 



3

★★★

 

★★★

 

★★

★★★



4

★★

 

 

 

★★★

 

Key: ★★★ - Extremely Useful      ★★ - Frequently Useful      ★ - Occasionally Useful     No stars - Not Useful
Consumables
AL Avrora equips the following consumables:
Camouflage
As a premium ship, AL Avrora comes with Default permanent camouflage and a set of permanent combat bonuses.
Signals
Note: Use of the Juliet Charlie signal makes detonation impossible.
Gallery
References
See here for links to Update notes.

First appeared on sale in May 2022.