Erie
Revision as of 10:12, 31 July 2016
Revision as of 07:25, 10 August 2016

Minor grammar corrections

Line 7:
Line 7:
 
 
 
|Research=<!-- write text about priority sequence of research below -->
 
|Research=<!-- write text about priority sequence of research below -->
?
The Erie is an entry ship at Tier 1, Personal preference would be best in deciding if you get the Hull upgrade or Gun upgrade first.
+
The Erie is an entry ship at Tier , Personal preference would be best in deciding if you get the Hull upgrade or Gun upgrade first.
 
 
 
|Pros=<!-- write list of positive points below. use * as in ordinary wiki-list. -->
 
|Pros=<!-- write list of positive points below. use * as in ordinary wiki-list. -->
?
* Brilliant Armour for a Tier 1 starting ship.
+
* Brilliant Armour for a Tier starting ship.
 
* 9.6km Gun range.
 
* 9.6km Gun range.
 
* 20.8kts speed makes you currently the fastest Tier 1 ship.
 
* 20.8kts speed makes you currently the fastest Tier 1 ship.
Line 23:
Line 23:
 
 
 
</gallery>|History=<!-- write text below -->
 
</gallery>|History=<!-- write text below -->
?
The Erie class gunboats were a class of gunboats built by the United States prior to World War II. The class was designed in 1932. The United States Navy commissioned 2 Erie-class gunboats in 1936. Eries had a design speed of 20 knots, and a main armament of four 6" guns in single mounts with four 1.1" quadruple mount anti-aircraft guns.
+
The Erieclass gunboats were a class of gunboats built by the United States prior to World War II. The United States Navy commissioned Erie-class gunboats in 1936. had a design speed of 20 knots, and a main armament of four 6" guns in single mounts with four 1.1" quadruple mount anti-aircraft guns.
 
 
 
|HistoricalGallery=<!-- write below list of files without tags. description (if necessary) for each should be separated with template {{!}} --><gallery>
 
|HistoricalGallery=<!-- write below list of files without tags. description (if necessary) for each should be separated with template {{!}} --><gallery>
Revision as of 07:25, 10 August 2016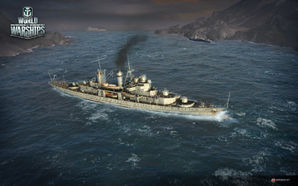 Tech Tree Position
152 mm/47 Mk17
4 х 1 

pcs.
Rate of Fire
10 

shots/min.
Reload Time
6 

sec.
Rotation Speed
9 

deg./sec.
180 Degree Turn Time
20 

sec.
Firing Range
9.59 

km.
Maximum Dispersion
86 

m.
HE Shell
152 mm HE/HC Mk34T 
Maximum HE Shell Damage
1,100 
Chance of Fire on Target Caused by HE Shell
12 

%
Initial HE Shell Velocity
853 

m./s.
HE Shell Weight
47.6 

kg.
28 mm/75 Mk2 mod. 2
4 х 4 

pcs.
. . . Average Damage per Second
2.72 
. . . Firing Range
0.75 

km.
Maximum Speed
20 

knot
Turning Circle Radius
310 

m.
Rudder Shift Time
2.8 

sec.
Surface Detectability Range
8.28 

km.
Air Detectability Range
4.67 

km.
Battle Levels
Erie — American Tier I cruiser.
The Erie-class patrol gunboats were designed as small multipurpose ships capable of performing a wide range of tasks, from artillery support of landing operations to protection of convoys. The ships were well-armored and well-armed for their size. They were the first in the U.S. Navy to receive automatic AA guns.
Modules
Compatible Upgrades
Player Opinion
Pros:
Brilliant Armour for a Tier I starting ship.
9.6km Gun range.
20.8kts speed makes you currently the fastest Tier 1 ship.
Guns are quite accurate with a small dispersion arc.
Cons:
Seems to lose its forward gun often.
Can get ahead of its support ships and get caught alone.
The concealment is almost useless as you only have guns to rely on.
Research
The Erie is an entry ship at Tier I, Personal preference would be best in deciding if you get the Hull upgrade or Gun upgrade first.
Gallery