Puerto Rico
Revision as of 06:57, 3 July 2020

Update commander skills

Revision as of 19:09, 11 August 2020
Line 37:
Line 37:
 
* Decent fire-starting potential with HE
 
* Decent fire-starting potential with HE
 
* Many consumable options, including radar
 
* Many consumable options, including radar
 
+
 
+
 
 
 
|Cons=<!-- write list of negative points below. use * as in ordinary wiki-list. -->
 
|Cons=<!-- write list of negative points below. use * as in ordinary wiki-list. -->
Line 43:
Line 45:
 
* Lousy base concealment
 
* Lousy base concealment
 
* Vulnerable to broadside damage if not careful
 
* Vulnerable to broadside damage if not careful
 
+
 
 
 
|Research=<!-- write text about priority sequence of research below -->
 
|Research=<!-- write text about priority sequence of research below -->
Revision as of 19:09, 11 August 2020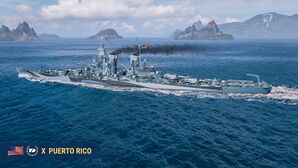 Tech Tree Position
305 mm/50 Mk.8 in a turret
4 х 3 

pcs.
Rate of Fire
2.73 

shots/min.
Reload Time
22 

sec.
Rotation Speed
6 

deg./sec.
180 Degree Turn Time
30 

sec.
Firing Range
18.81 

km.
Maximum Dispersion
248 

m.
HE Shell
305 mm HE Mk17 mod. 1 
Maximum HE Shell Damage
4,300 
Chance of Fire on Target Caused by HE Shell
27 

%
Initial HE Shell Velocity
808 

m./s.
HE Shell Weight
462.3 

kg.
AP Shell
305 mm AP Mk18 mod. 1 
Maximum AP Shell Damage
8,900 
Initial AP Shell Velocity
762 

m./s.
AP Shell Weight
517 

kg.
127 mm/54 Mk41
8 х 2 

pcs.
Firing Range
6 

km.
Rate of Fire
15 

shots/min.
Reload Time
4 

sec.
HE Shell
127 mm HE Mk41 
Maximum HE Shell Damage
1,800 
Initial HE Shell Velocity
808 

m./s.
Chance of Fire on Target Caused by HE Shel
9 

%
40 mm Bofors Mk2
16 х 4 

pcs.
. . . Average Damage per Second
254.4 
. . . Firing Range
3.51 

km.
20 mm Oerlikon Mk4
26 х 1 

pcs.
. . . Average Damage per Second
93.6 
. . . Firing Range
2.01 

km.
127 mm/54 Mk41
8 х 2 

pcs.
. . . Average Damage per Second
125.6 
. . . Firing Range
5.19 

km.
Maximum Speed
33.5 

knot
Turning Circle Radius
910 

m.
Rudder Shift Time
15.9 

sec.
Surface Detectability Range
16.56 

km.
Air Detectability Range
11.16 

km.
Battle Levels
Puerto Rico — American Tier X cruiser.
The project that preceded the creation of the "large Alaska-class cruisers". The CA2-D variant was designed with twelve 305 mm main battery guns.


Modules
Compatible Upgrades
 Slot 1 
 Slot 2 
 Slot 3 
 Slot 4 
 Slot 5 
 Slot 6 
Player Opinion
Performance
Puerto Rico is a Tier X American reward cruiser, available through the Dockyard feature introduced in the 2019 Christmas Event.
Over her lower tier'ed relative, Alaska, Puerto Rico offers slightly improved protection and a fourth main gun turret, as well as superior Anti-Air protection. She does however come with her weaknesses.
Main firepower wise Puerto Rico offers the heaviest broadside available to any cruiser in World of Warships. Captains who are used to Alaska will feel at home with the handling of these weapons, but will also find that Puerto Rico's accuracy leaves something to be desired. It is noticably worse than that of Alaska, leading to dispersion trolling the player at times. Puerto Rico is better than average for tier X, but still inferior to battleships, making the usage of Gun Fire Control System Modification 2 (

) highly recommended (but not required).
Puerto Rico's resilience against incoming damage is decent for a super-cruiser. She sports a high health pool, right in between Kronshtadt and Stalingrad, while also having a reinforced midsection. Her case-mate deck is 38mm thick, which is enough to shatter a lot of HE rounds as well as being capable of auto-bouncing any AP shell in the game. It should be noted however that the upper belt, which connects the 254mm main belt with the 38mm upper deck, is only 30mm thick, meaning that lucky shells with a caliber of 431mm+ like from Republique, Yamato and Georgia can still over-match through that strip and deal normal penetration damage. Like the other super-cruisers, Puerto Rico burns for the full duration of 60s before modifiers are added, making her vulnerable against fire damage. Usage of survivability-enhancing captain skills such as Fire Prevention and modules such as Damage Control System Modification 2 (
) is advised.
Against aircraft Puerto Rico offers a strong AA-suite, further enhanced by the Defensive AA Fire (

) consumable. However, by itself her AA is average for her tier and doesn't grant immunity against skilled carrier players, and her large size and sluggish performance will make dodging incoming ordinance difficult.
Play-style wise Puerto Rico should be played like an active, kiting cruiser. Using her speed to gain access to ship's sides to capitalize on the heavy AP broadside. If no such shot is possible, the player should resort to using HE shells to deal damage against angled cruisers or battleships, while seeking another opportunity to flank the enemy (though plunging AP can still score the occasional good hit). While Puerto Rico has access to the Surveillance Radar (

) consumable, it is not recommended to actively push in the first half of the match as disengaging in a pinch will be nearly impossible, and a trip back to port immanent. For a similar reason it is not recommended to play her like a bow-tanking ship, similar to Stalingrad, as the balanced gun layout and the lack of heavy case-mate protection will result in less than ideal performance.
It should be noted that
Puerto Rico
can be played close-in (not recommended), as a camper (lower muzzle velocity), or as a long-distance kiter as mentioned above (preferred). This presents many different options for build-out, and captains should consider carefully which tools will be most useful based on play-style.
Pros:
Huge health pool for a cruiser
Twelve 305mm rifles give great alpha damage potential and have better than average range for her tier
Good turret traverse
Decent fire-starting potential with HE
Many consumable options, including radar
Decent armor, for a cruiser, that's better than Alaska alowing her to bounce shells more reliably than her tier 9 counterpart.
Like most U.S Vessels, she does have strong AA.
Cons:
Due to her size, not agile
Battleship dispersion and slow reload, coupled with average dispersion
Lousy base concealment
Vulnerable to broadside damage if not careful
Though armor is decent and has a big health pool, the armor on Puerto Rico is not enough to take concentrated fire or fire from battleships for an extended time period.
Research
As a special ship, Puerto Rico doesn't have any upgrades to research.
Optimal Configuration
Commander Skills
Recommended Commander Skills
Cost
(points)

Endurance

Attack

Support

Versatility



1

★★★

★★

★★

Χ

★

Χ

 

Χ



2

★

★

★★★

Χ

Χ

Χ

★★

 



3

★★★

 

Χ

Χ

★

★★★

★

 



4

Χ

★★★

Χ

Χ

★

 

★

★★★

Key: ★★★ - Extremely Useful      ★★ - Frequently Useful      ★ - Occasionally Useful     No stars - Meh     

Χ

- Not recommended
Consumables
Puerto Rico can equip the following consumables:
Camouflage
As a premium ship, Puerto Rico comes included with Type 20 permanent camouflage that lowers her detection radius, reduces the accuracy of incoming shells, reduces her service cost by 50%, and increases her earned Credits 

by 20% and Experience by 100%.
Signals
Recommended Signal Flags
Combat

★★

★

★★

 

★

★

★★

★★

★★★

★★

★★

 

Economic

 

 

 

 

 

Special

 

 

 

 

 

 

 

 

Key: ★★★ - Extremely Useful       ★★ - Frequently Useful       ★ - Occasionally Useful      No stars - Not Useful
Gallery
References